Ten months after punctuating the farewell to his storied playing career with the touching and poignant declaration, "Mamba Out," a bearded (see: wiser) Kobe Bryant has reemerged back into the public spotlight. His resurfacing, however, was accompanied by a new Mamba, a little Mamba.
Little Mamba is not a five-time NBA champion, nor did he take Brandy to prom. Little Mamba is a purple phallic puppet that erects its head at Kobe Bryant's waist as the NBA legend explains to children the necessity of embracing hatred in order to achieve success.
In Bryant's premiere storytelling venture 'Canvas City,' Kobe quickly seizes the opportunity to exercise his unbridled obsession with the singular word 'Muse.' Per Big Mamba, inspiration is derived from either A) LightMusings or B) Dark Musings.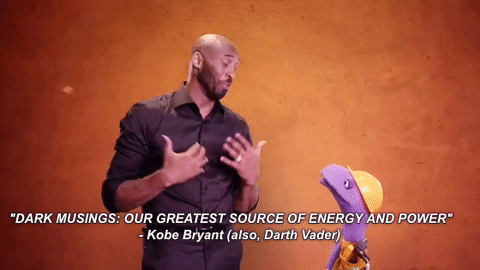 Because this lesson is theoretically targeted toward children, a form of physical storage for these musings should help to facilitate an understanding of Bryant's nebulous message. Makes sense. How about a heavily secured Museum? Or maybe, at worse, a four wall enclosure so dull and blank that it thrusts you to find musings for adornment; we'll call it a Muse-icle. Nope, Mamba Sr. opted to invite children into a cage. A 'musecage.'
At first glance, the term 'musecage' may not roll off the tongue, and it could possibly seem a bit menacing to viewers of the puppet show age range. But we have to remember that Kobe is attempting to help the children learn how to "unleash [their] inner beast" through "dark musings." Which is further explained in an animated short featuring a train being fueled by hate, fear of failure, and feelings of worthlessness.
The musecage lesson, however, is multi-dimensional. In part two, Kobe explains to his purple Little Mamba puppet that dark musings alone will not help you "destroy your competition." If you "truly want to dominate, you're going to have to learn the game at a higher level." He then summons the Crystal Ball of Canvas City (the fictional locale of this highly competitive peyote trip), which seamlessly segues into a four minute film session
"You decide the best option in defending James is to have the on-ball defender go over the screen and chase him into your big. This protects you from the open three, while your big protects against the drive. This means the corner defender must pull in to pick up the diving big. Well James reads the Help the Helper coverage and finds Lou Williams for a corner three." – exact quote from the Canvas City, the show for kids.
highlighting how Russell Westbrook and James Harden respond to drop coverage with elbow jumpers, maneuver under outside screens, blitz a press to spread the offense, and drive to weak-side lanes. It's the kind of information that can easily be digested by this children's puppet show audience.
More importantly, it serves as a cohesive reinforcement to the show's thematic message that embracing hatred will bring you power. Truly a perfect way to punctuate the end of the viewers' first venture to Canvas City.
It may have taken longer than hoped, but the profundity of this narrative proved worth the wait. Kobe Bryant's storytelling debut conveys not only a promising future, it confirms that the Mamba isn't a man confined to one singular talent; his only confinement is his musecage. And for that, we should all be grateful.